Many categories of household appliances include smart models. Electric kettles are no different. Given that almost every kitchen has a kettle, let's figure out: what is a smart kettle and how does it differ from traditional models?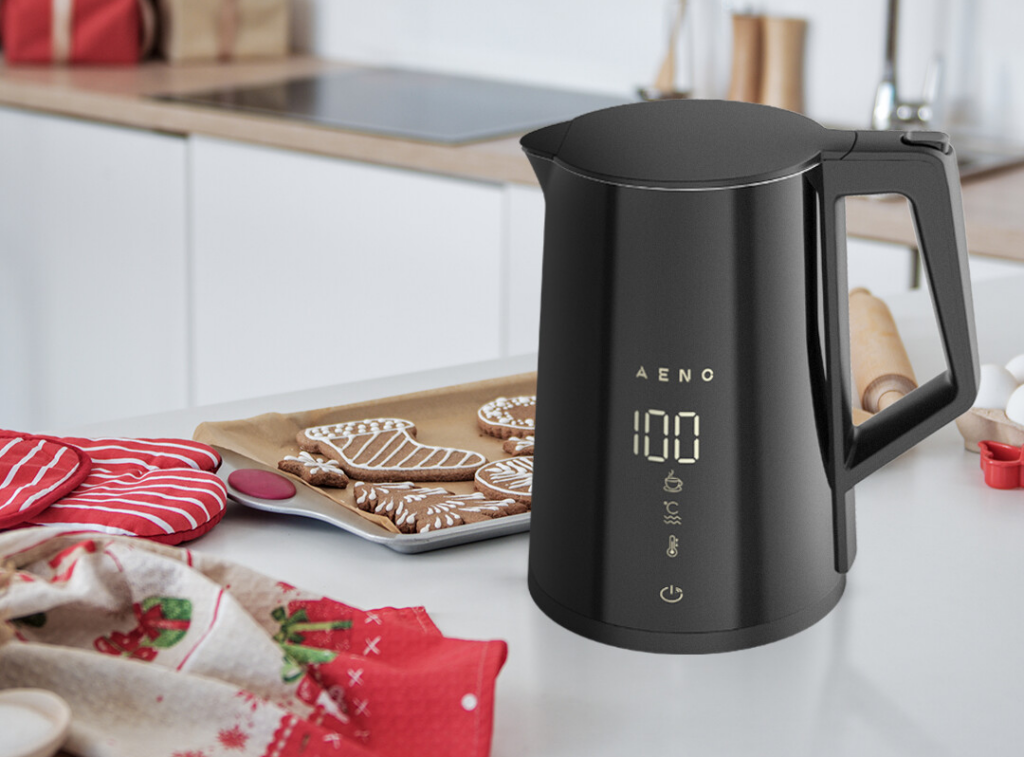 This is a modern kitchen device that makes use of advanced technology to enhance the process of boiling water. In contrast to a traditional kettle, a smart model is intended to be user-friendly and simple to use, and equipped with characteristics that make it more convenient and efficient.
The primary characteristics
Smart models have a number of specific characteristics that distinguish this type of device from traditional kettles.
Remote control
An intelligent model's ability to establish a connection to the Internet, allowing users to control and track its functions via a mobile app on the user's smartphone, is one of its most notable features. You can use this device to adjust the required temperature, begin the boiling, and even plan it to start at a fixed time on a schedule. This implies you can program the device to begin heating water when your alarm goes off in the morning, eliminating the need to wait for the kettle to heat up before you prepare a hot drink.
Economical energy consumption
The majority of these kitchen gadgets are designed to heat only the specific  amount of water required, reducing energy consumption. Some models also include a keep-warm function that keeps the water temp stable for a predetermined amount of time without the need to reheat the water.
Safety features
These devices also have protections to keep you safe. Some models, for example, have automatic shut-off options. This function ensures that the device turns off after the water boils. This prevents the gadget from overheating or boiling dry, lowering the risk of a fire.
As a result, an intelligent kettle is a helpful, efficient, and safe kitchen device that facilitates the process of boiling water. Because of advanced features, you can relax with a cup of your favorite hot beverage whenever you want, without wasting your time waiting.
How it works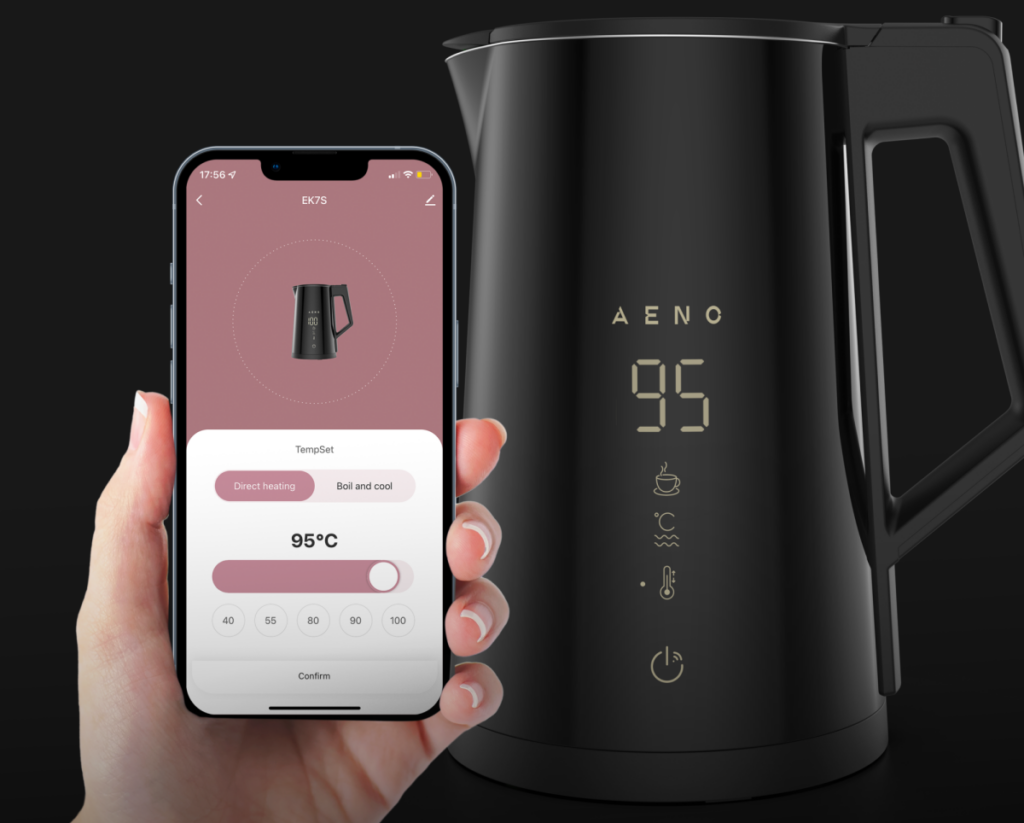 Let's look at how these gadgets work: what does a smart kettle do, how does the remote control operate, what measures the volume and temperature of heated water, and what functions are available to this device's users. Here's how it works:
Install the mobile application and connect the device via Wi-Fi.
A smart model is connected to the internet via Wi-Fi, which allows it to be controlled using a mobile app. The mobile app can be downloaded onto a smartphone or tablet, and it allows you to adjust the temp, set a timer, and even turn the device on and off.
Turn on the smart kettle through the mobile app right away or set a timer to start boiling.
The heating element is responsible for boiling. The heating element is powered by electricity and can be operated using a mobile app or the buttons on the outer case. The heating element begins to work, when the power button on the device is pushed, the start button in the application is activated, or the timer for boiling is set. You can start the kettle from your smartphone's app or set a delayed start so that hot water is ready to make tea or coffee when you wake up or arrive home.
Select the keep-warm mode to avoid having to reheat the kettle.
The temp of the water is measured by temperature sensors in intelligent models. This allows the device to know exactly how hot the water is and adjust the heating element accordingly. Furthermore, some models include a keep-warm function that keeps the water temp stable for a set period of time without the need to reheat the water. This feature is available in AENO smart kettles.
Do not worry about possible incidents thanks to the automatic shut-off function.
There is no need to be concerned about potential incidents because of the automatic shut-off feature. These devices turn off automatically when the water reaches boiling temp. This keeps the gadget from overheating or drying out, both of which are dangerous.
Benefits of a smart kettle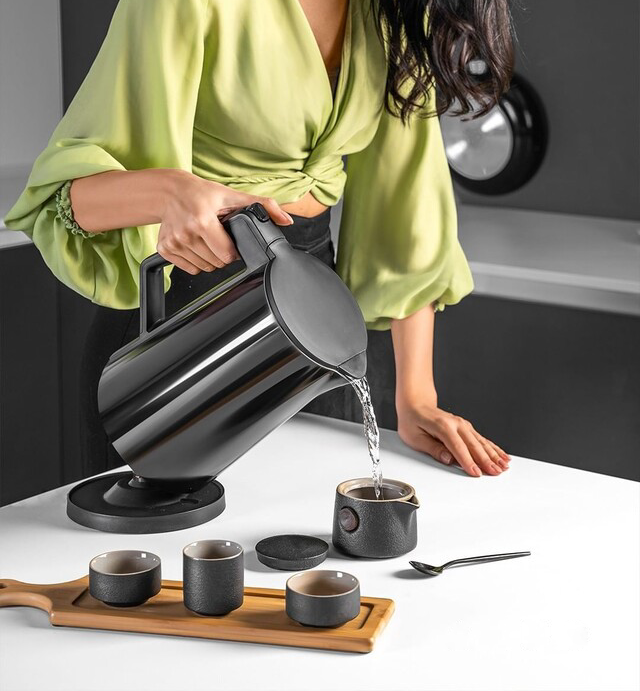 This kitchen gadget is a must-have appliance for any modern kitchen. Here are some of reasons why you need this device:
Convenience
With this device, you can regulate the temp of the water and set it to your preferred level, whether it's boiling hot or just warm. You can also set your gadget to turn on at a predetermined time, ensuring that it is ready when you need it. This saves you time and effort, which is especially beneficial if you are in a hurry or have a busy schedule.
Setting the temp & operate mode
Smart kettles, as opposed to traditional models, which frequently boil water at a fixed temp, provide accurate temp control. This is especially useful if you enjoy coffee or tea, as different beverages require different temperatures to achieve their best flavor. Different manufacturers may offer various options. For example, AENO models allow you to choose a temperature between 25 and 100 °C. And additionally, you can also select one of 5 operating modes for different types of tea.
Energy efficiency
Smart devices are intended to save energy, which means that these devices consume less power and boil water faster than traditional models. This helps you save money on your electricity bills and reduces your carbon footprint, making it an environmentally-friendly option.
Safety
These kitchen gadgets come with safety options such as automatic shut-off, which prevents the device from overheating or boiling dry. This minimizes the risk of fire hazards and ensures your safety, especially if you have children or pets in your house.
Contemporary design
Intelligent models come in a variety of sleek and contemporary designs that can complement the kitchen decor while also adding a touch of sophistication to the space.
To summarize, a smart kettle improves the boiling process by utilizing temperature sensors, a heating element, a remote control via mobile app with Wi-Fi connectivity, automatic shut-off functions, and a keep-warm mode. Because of these advanced features, it is a practical option for anyone who enjoys hot beverages.
It also provides convenience, energy efficiency, safety, precise temperature settings, and an elegant design, making it an excellent addition to your kitchen. A smart model is a good way to go if you plan to upgrade your electric kettle.