How to cook for yourself and your family with great taste and variety, sticking to the idea of a healthy diet, but not spending all day by the stove? Modern household appliances for the kitchen make the process as easy and fast as possible. An electric grill is a trendy home appliance in our kitchens. This handy, fairly compact and easy-to-use device saves time on cooking while achieving great results. Products cooked on an electric grill retain essential trace elements and vitamins and remain juicy. They are great for diet food. Such dishes are lighter because frying oil is not required or used in minimal amounts.
Nonstick-coated panels will prevent food from burning or sticking, and a fat collection tray will make the process more comfortable and ensure cleanliness in the kitchen. Heat is supplied directly to the working corrugated surface of the electric grill, where the ingredients should be placed. Most often, stainless steel and ceramics are used for the base. The working surface can reach 270°C – 400°C. Heating to the desired temperature for cooking is fast, it takes from 2 to 5 minutes.
The most convenient are bilateral models, where products are fixed and cooked from two sides at once – for example, by AENO brand. The devices open fully up to 180⁰, which allows you to cook either twice as much food at the same time on two working surfaces, or twice as fast, frying food on both sides at once. The thermal insulation of the case will prevent getting burned when working at maximum heating levels. Also, AENO electric grills have an automatic shutdown function in case of overheating.
A variety of dishes that can be quickly prepared on an electric grill save time, but at the same time let you eat delicious healthy food every day. The average "cooking" time with such equipment in the kitchen will be 15-20 minutes.
So, what can you cook on an electric grill?
Meat & Steak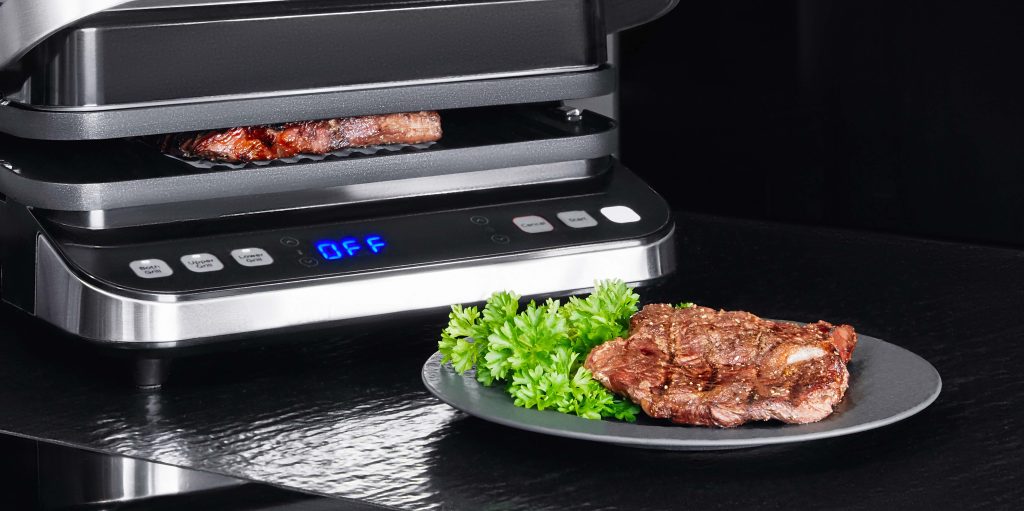 The first thing that comes to mind when it comes to grilling is meat. Whatever you prefer: beef, pork, lamb, chicken or turkey – everything will be juicy and fragrant. The meat will have a golden crust, while inside it will remain completely non-greasy and free of cholesterol.
Delicious steak, like in a restaurant, at home in the kitchen in just 10 minutes? With an electric grill, such a dish is a reality. Of course, if desired, the meat can be pre-marinated using spices. But you can also enjoy the natural taste by simply taking the steak and placing it on the heated work surface of the electric grill. You only need to set the required temperature and timer. After frying, you can let the meat rest in foil for a few minutes.
By the way, if you have a "smart" electric grill, then everything is even simpler: the device will independently tell you the required temperature regime and cooking time, determining the thickness and number of pieces.
In addition to steaks and fillets on an electric grill, you can also make chicken wings, thighs, drumsticks and offal, and of course burger patties. The recipe is up to you!
Fish and seafood
Fish is cooked on an electric grill even easier and faster than meat. There is a small nuance – it is better to choose fatty fish with fairly dense meat fibers, for example, salmon steak. This will ensure the juiciness of the dish. If you plan to fry a less fatty variety – tuna, or even more so – flounder, hake or pike perch, then it is better to use an additional marinade or oil.
Preparing fish for grilling is no different from the usual way: you need to clean fish from the insides and scales, rinse with water and rub with salt and spices as desired. If this is not a steak or fillet, but a whole fish, like a dorado or a sea bass, then you can make cuts on each side for even frying. It will take 7 to 20 minutes to cook fish on the grill.
You can also grill seafood: shrimp, squid, cuttlefish, mussels, vongole, baby octopus, scallops. If the clams are frozen, then they must first be thawed. The cooking time of seafood on an electric grill is 5 minutes.
Vegetables, mushrooms and fruits
Vegetables can be prepared as a main vegetarian light dish or side dish. Especially tasty are zucchini, eggplant, peppers, tomatoes, corn, asparagus, broccoli, sweet potato. It is better to choose firm vegetables that do not contain too much water, fleshy and fresh. They should be cut into not very thick pieces, with salt and pepper to taste. Both champignons and forest mushrooms are suitable. After grilling properly, any vegetable will remain juicy and crispy inside, which is called "al dente", and will also retain a maximum of micronutrients and vitamins.
The owner of an electric grill can consider preparing interesting desserts from fruits: for example, bake apples, pears or pineapples.
Such dishes are prepared in about 5-7 minutes.
Burgers and sandwiches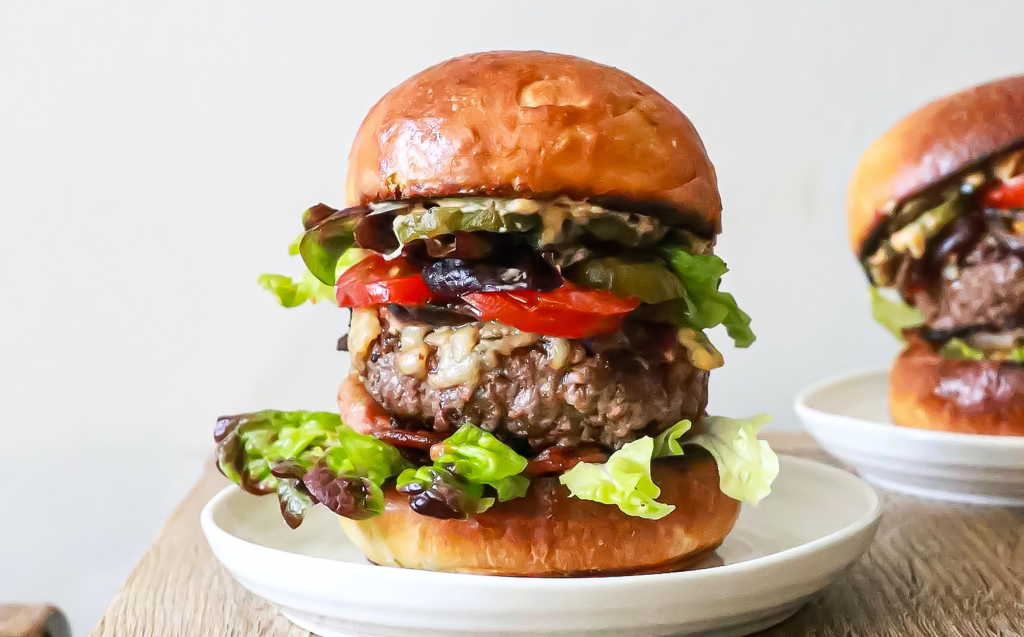 Electric grills can also be used for hot sandwiches and sandwiches as a snack. Just take a couple of slices of bread or toast, pita bread or hamburger buns and grill. The base will acquire a golden crust with a characteristic grate imprint, as we are used to in street food establishments.
As a filling, you can use any product to your taste: cheese, vegetables, sausages, ham. The cooking time will be minimal – one a minute on the hot surface of the electric grill and a warm sandwich will be ready.
Connoisseurs of French cuisine can cook Camembert and serve it with grilled croutons. Simply brush the cheese and sliced baguette with a little oil and place on the grill surface and close the lid. Voila, wait a couple of minutes and serve the appetizer on the table with your favorite sauce.
This is far from an exhaustive menu of what can be done in an electric grill, but perhaps the most common and popular options. However, such equipment in the kitchen provides ample opportunities for culinary experiments. For example, on an electric grill, you can bake pizzas and various flat cakes, as well as make pancakes, cheesecakes and waffles.
The home electric grill will become a reliable assistant in the kitchen, providing varied, tasty and healthy meals every day. To learn more about the capabilities of AENO electric grills and choose the most suitable model, please follow the link.