Modern multifunctional kitchen devices make cooking easier, faster and more fun. The best option is when one gadget can help prepare different dishes for a diversified menu every day. One of those versatile devices is a soup maker.
A soup machine makes cooking much easier in general, we are not talking about just cooking soup.
What can you do in a soup maker? Modern models of soup blenders are perfect for cooking dishes with different textures: porridge, cereals, purees or creams. All you need to do is add ingredients to the soup machine, set the cooking mode and get on with your day as the food is being prepared.
Using the universal soup machine is simple. This gadget will free your time if you know all its features outside of just cooking soup. So, what else can you make in a soup maker?
Menu for every day:
from breakfast to evening meal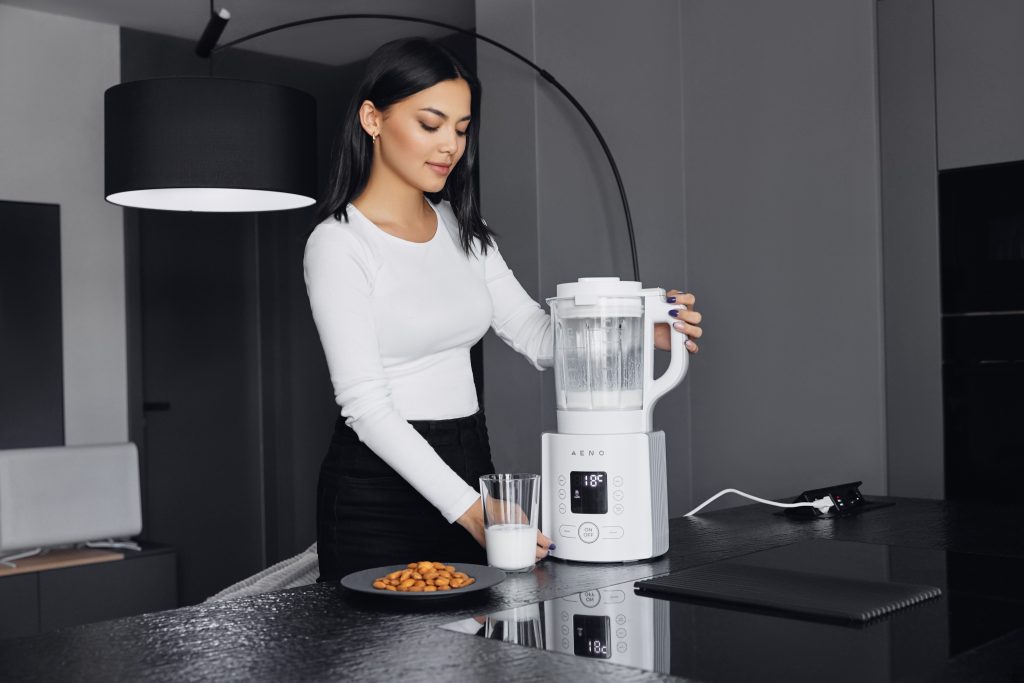 Naturally, the main job of the soup maker is the preparation of soup. Many people also use such devices for preparing baby or diet food: mashed and liquid purees. In fact, the capabilities of blenders and soup makers are much wider. In addition to puree soups, they can prepare a full everyday menu for breakfast, lunch, and dinner.
Note that soup blenders cook everything the same way as the ordinary models of blenders. In the soup maker, you can cook vegetables, meat, steamed fish or chicken fillets, sauces, cereals, soy and nut milk, mashed potatoes or any other vegetables, hot chocolate, custard, fruit drinks and compotes, cocktails, pancake dough and even ice cream.
If you have a modern model of a soup maker blender, which are presented in the AENO product line, then you just need to add all the ingredients to the bowl and select an appropriate automatic program.
Breakfast
The soup maker will help you prepare a wide variety of dishes for breakfast. You will never have to eat the same dish with this device. Make smoothies, porridge or pancake batter in the soup machine.
Pancake dough
Cooking pancake dough in a blender is very convenient because it allows you to use fewer dishes and spend less time washing them. You can also add the dough to the pan directly from the jug. It's very practical.
Ingredients
Cooking step by step
Milk 750 ml

Water 250 ml

Eggs 3 (large)

Flour 5 tablespoons

Sugar 2 tablespoons

Salt 1 pinch

Oil 2 tablespoons
1. Add water, milk and then the rest of the ingredients to the jug.
2. Mix on low speed. And then leave it for 15 minutes.
3. Bake pancakes by pouring the dough from the jug directly into the pan or pancake maker.
Porridge
Simple porridge can become a special dish when cooked in a soup maker. With such an advanced kitchen gadget as a soup maker blender, you can always experiment with recipes. In ordinary oatmeal, you can add your favorite berries, banana, and nuts to taste.
Ingredients
Cooking step by step
Oat flakes (for 2 servings) 1 cup

Banana 1 piece

Walnuts (or other) 1/4 cup

Water 1 glass

Honey (to taste) 2 teaspoons
1. Add ingredients to the jug.
2. Select the desired "Porridge" mode from several preset programs. This opportunity is available to users of AENO soup blenders.
3. Wait for the program to complete.
Lunch
Among the lunch dishes that can be prepared with a soup maker blender, you can choose from many options: soup puree, minced meat for cutlets, and various sauces. If you are concerned about the question: сan you cook meat in a soup maker? The answer: yes, most certainly. And at the same time, you can do it in a very diverse way.
Meat cutlets can also be cooked completely in a blender & soup maker. First you need to chop the meat and ingredients in the "Grind" mode, then form the cutlets and lower them into a jug and cook in the "Steam" mode. The meat can also be steamed separately.
This applies to practically all products, including chicken and fish. Can I put chicken in soup maker? Of course, like other ingredients with pre-cut pieces.
Mushroom soup puree
If you cook puree soup in a multi-blender & soup maker, then there will be no problem with a mountain of dirty dishes. For cooking, you only need a soup blender.
Ingredients
Cooking step by step
Champignons 10 pieces

Potatoes 4 pieces

Bulb 1 pieces

Cream 200 ml

Spices
1. Cut the ingredients and load into a jug. Add cream, spices and water.
2. Close the bowl with a lid, turn on the blender and set the "Soup Puree" or "Thick Soup" mode.
3. Wait for the soup to finish cooking.
Dinner
For dinner, as an evening meal, you can make something light. For example, pates, hummus with snacks, steamed vegetables or fish. All this is also quick and easy to cook in a soup maker.
Hummus
Hummus is a puree of chickpeas seasoned with olive or sesame oil, with the addition of various spices. Hummus is made from large yellow chickpeas. Chickpeas are very hard, so it is recommended to pre-soak them for a few hours.
Ingredients
Cooking step by step
Tahini (tahina)

Sesame 200 g

Olive oil or sesame oil 4-5 tablespoons

Chickpeas 400 g

Sesame paste (tahina) 4-5 tablespoons

Garlic 1-2 cloves

Lemon juice

Spices (paprika, cumin, coriander, ground black pepper, salt, a little saffron)

Olive oil 7 tablespoons
1. Add chickpeas and water to a jug, chop and boil it in a soup pot.
2. Add the spices, garlic, lemon juice and oil to the pitcher.
3. Mix in the device to a paste.


Steamed vegetables
You can cook a variety of steamed vegetables with the preservation of useful elements and vitamins with a soup machine. How to do it? Сan you put raw vegetables in a soup maker? It's simple, catch the universal recipe and change it to fit your ingredients. Raw vegetables you should cut and put in a jug, and then select the appropriate program.
Ingredients
Cooking step by step
Vegetables
Water
1. Wash the vegetables and cut the pieces into medium size.
2. Add vegetables to the jug and pour water.
3. Turn on the "Steam" mode.
You can also cook fish, chicken and meat in the "Steam" mode. All these dishes will be the most dietary. The food will turn out soft and tender, and you will not spend too much time preparing a healthy diet menu.
Dessert
It is generally accepted that only the main course can be cooked in a soup maker. This is a limiting opinion. Modern devices will also help to prepare jam, creams for cakes and pastries, sweet fruit purees, and even ice cream.
Lemon curd
Lemon curd is a versatile dessert product. It can be used in cakes and pastries. It can be eaten as a sweet jam with toast.
Ingredients
Cooking step by step
Lemons 4 pcs.
Eggs 4 pcs.
Sugar 250 g
Butter 50 g
1. Wash the lemons, cut into 4 parts and grind in the bowl of the device.
2. Add eggs, beat. Add sugar, beat.
3. Add butter. Whip everything up and heat it up in a bowl.
Fruit Puree
Fruit puree in a soup pot cooks quickly and turns out to be more natural, because you choose all the ingredients yourself. Catch the applesauce recipe, but the apples can be substituted for another fruit of your choice.
Ingredients
Cooking step by step
Apples peeled 500 g

Water 200 g

Cream 33% 100 g

Sugar to taste (optional)
1. Peel and cut apples, put in a jug.
2. Add water. Grind at 1-2 speeds. Boil at 100 °C for about 5-7 minutes.
3. Add sugar if necessary. Add cream. Blend again until smooth.
Ice Cream
What to do if you do not have a special device for making ice cream, but you really want to cook this dessert at home? Can you make ice cream in a soup maker? Of course! Check and save a simple natural ice cream recipe. You can replace the berries with a banana or another fruit of your choice.
Ingredients
Cooking step by step
Yogurt 300 ml
Berries 1 cup

*for 4 portions
1. Add ingredients to the blender.
2. Grind and mix in a bowl until smooth.
3. Put in a mold and put in the freezer.
Soy Milk
An important feature for allergy sufferers who are lactose intolerant is the ability to prepare soy milk at home. This process is more laborious and time-consuming, but this is due to the need to preliminarily soak soybeans in water for several hours.
Ingredients
Cooking step by step
Soybeans 150 g

Water 1100 ml
1. Rinse soybeans and pre-soak in water for 6 hours.
2. Drain the water, remove the soybeans and transfer to a blender jar. Add water.
3. Press the start button, select the "Soy milk" mode and click on it.
4. After cooking, pour the mixture from a blender and carefully strain through a filter or fine sieve. As a result of straining, you will get soy milk.
In the "Soy milk" mode, you can cook almond milk. Add regular milk and almonds to the jug and select the "Soy milk" program.
You can find an e-book of recipes with a variety of dishes that can be prepared in a soup maker blender here. This will definitely help you diversify the menu at home.
How to use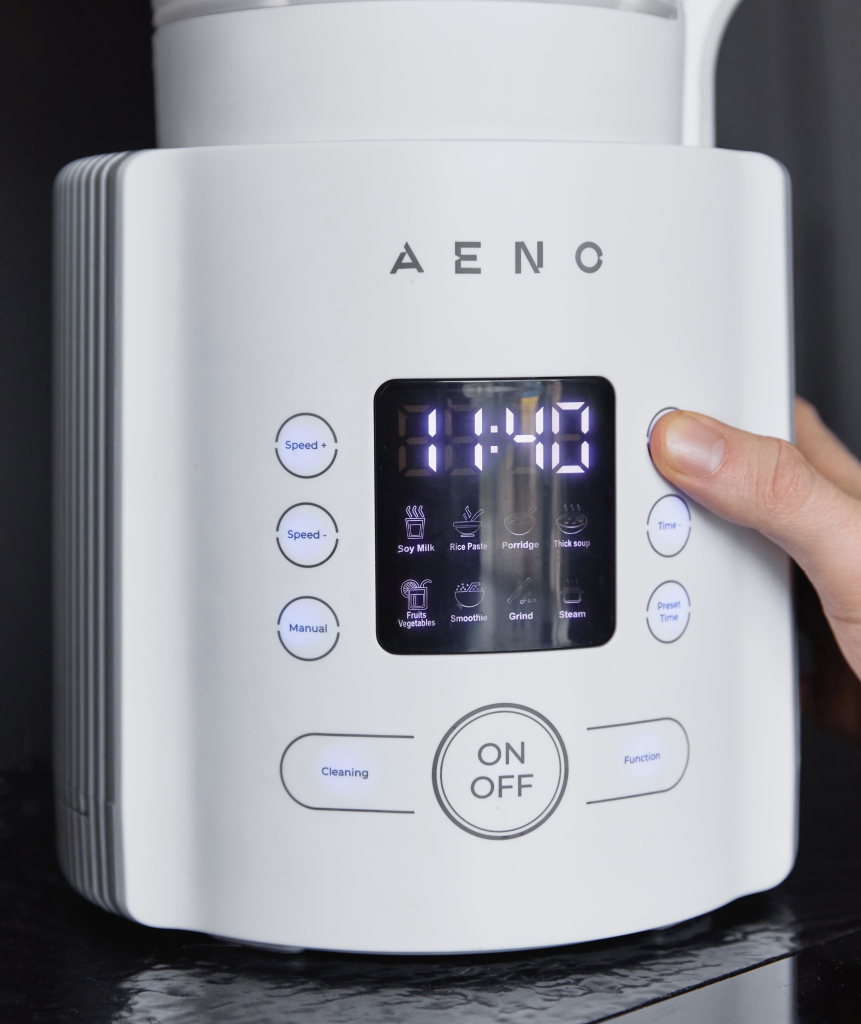 The modern models of blenders & soup makers have versatile features and combine the skills of two devices in one. The devices are able to heat the contents of the bowl up to 100 degrees and maintain the temperature at which food is cooked.
These appliances have several automatic cooking programs: chopping, making ordinary soup with chunks, porridge, nut milk or pureed soup. In many cases, depending on the dishes, the blender is switched on periodically during the cooking process: heat treatment and grinding or mixing go in parallel.
The device consists of several functional elements:
– a jug for adding ingredients with a cover on top;
– knives for grinding ingredients;
– base with display, control buttons, heating element and power cord.
The basic rules of operation of the blender and steamer are simple and intuitive.
If you just need to grind the product, the device is used as a regular blender, what is it for:
– Cut the ingredients into medium-sized pieces;
– Add all the ingredients to the jug;
– Press the power button and grind to the desired consistency.
If necessary, a device is used for cooking and steaming. It can work according to several preset programs in the temperature range from 40 to 100 degrees (boiling point). Usually the jug is equipped with an additional opening through which additional components can be loaded directly during cooking.
The total cooking time on average is up to 100 minutes, that is, a little more than 1.5 hours. This is quite enough for almost any soup, including meat. Basically, the device is used as a blender that cooks mashed soup. The components can be crushed immediately, during or at the end of cooking.
So, for boiling or steaming, you need to act like this:
– Choose a recipe and prepare the necessary ingredients;
– Cut the ingredients, add them to the jug and pour water;
– Select and turn on the desired mode. Waiting for the dish to be served!
You can read about how the soup maker works in another article How does a soup maker work.

Device care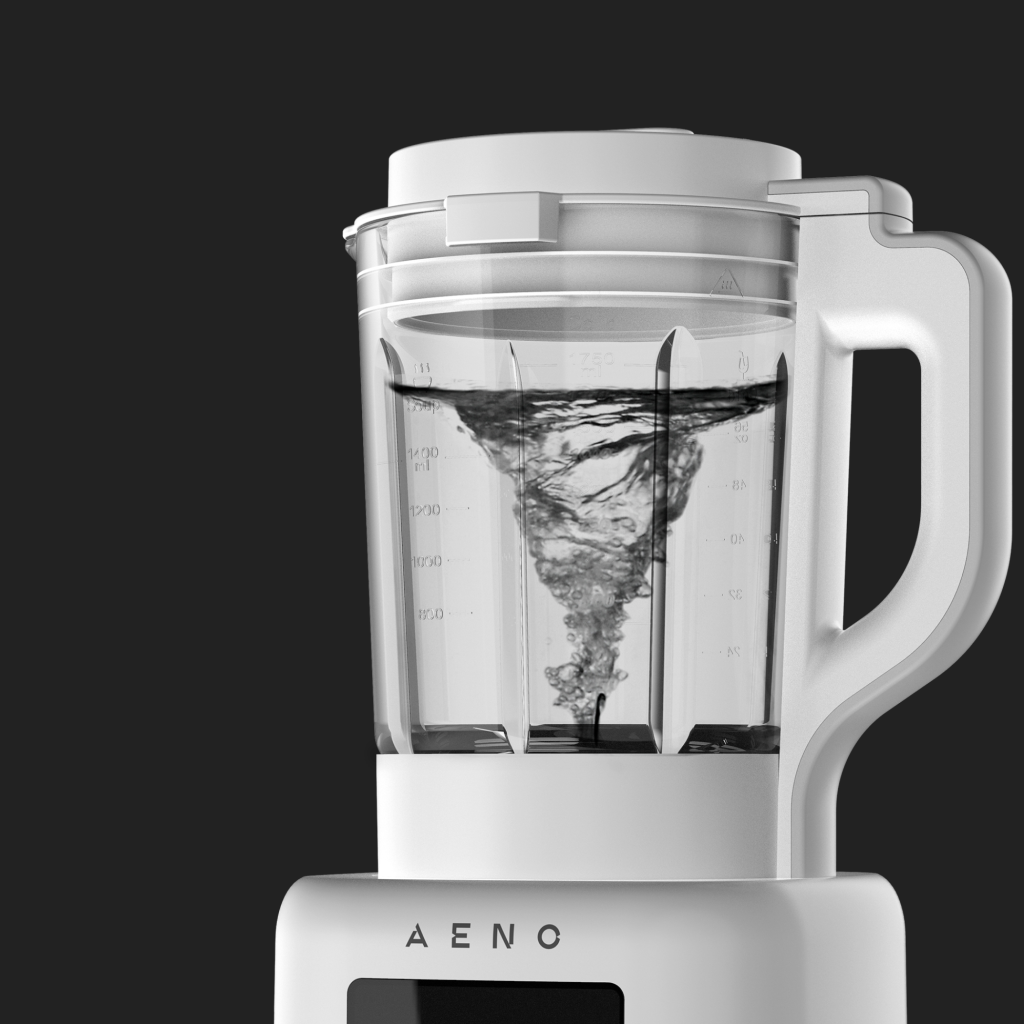 The soup pot is very easy to clean. It will do the main part of the process itself, you only need to pour some water with detergent and turn it on at medium speed. Then it is enough to rinse the glass and that's it. And some models, such as AENO models, even have a separate self-cleaning program.
Why do you need it
Modern blenders and soup makers are the best friend for your kitchen and healthy active lifestyle. Just add the ingredients to the blender, fill them with water and choose the program for their preparation! No need to stir anything, no need to make sure that the food does not burn, no need to control the degree of readiness of the dish – a smart device will do all this for you!
Such a device saves time and energy both for cooking and for cleaning up after cooking because you use fewer pots and pans! And in order to grind the ingredients, and to cook them, you need only one device – a blender and a soup maker.

More information about AENO brand blenders and soup makers and their capabilities can be found at the link: https://aeno.com/category/kitchen/#Blenders