The blender is a must-have for a wide variety of dishes in any season: from smoothies in the summer to soup in the winter. The device allows you to easily make pastry dough, minced meat, mashed potatoes and smoothies. It can completely replace a full-fledged food processor, thanks to a large number of different blades and additional accessories. On the one side, you will not surprise anyone with a blender in the kitchen. But, with all the seeming simplicity of the operations, it is often not clear what to pay attention to when buying.
Brands offer a variety of blenders, with all kinds of mechanics, functionality and design. So, what types of blenders there are? What are the benefits of different models? Which blender is the best for desired functions or work with specific products?
Immersion and jug blenders have different designs. Both have their esthetics and functionality advantages. Another way to classify is to distinguish between personal benders and combined models.
Immersion blenders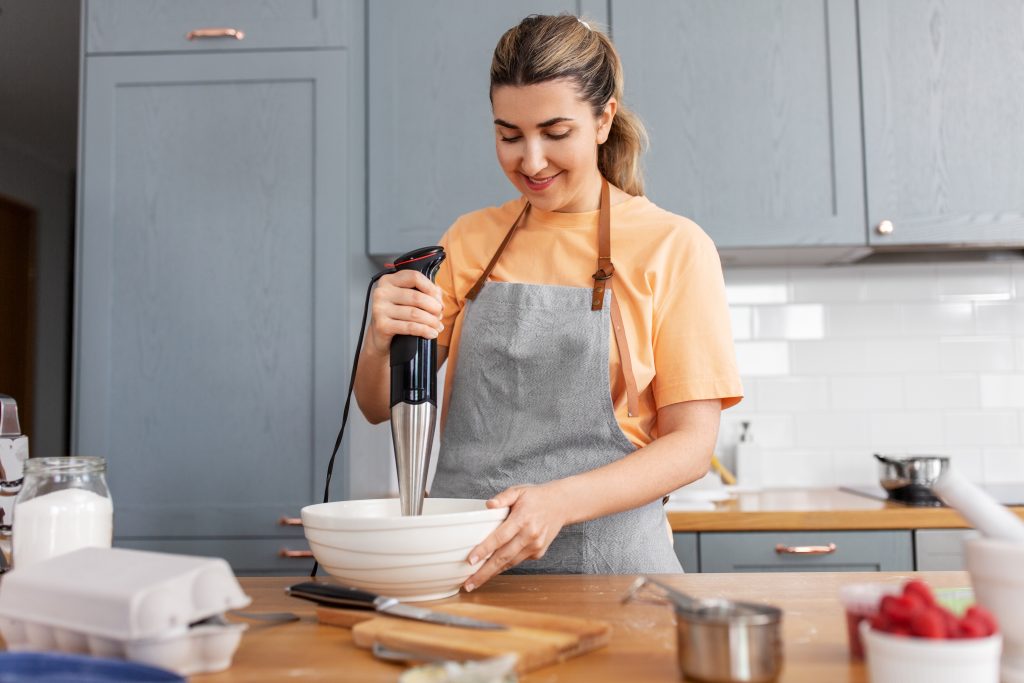 The immersion blender is the most compact model. The device is also called а hand or stick blender. Тhe gadget consists of a long arm with motor inside and buttons for control outside. The immersive part with blades at the end is attached to this base.
This type of device can be sold with or without a jar. The caps for a blender can be chopping, whipping, and mixing ingredients. The standard set includes: a blender leg with blandes at the end, a whisk for whipping, a hook or an S-shaped whisk.
The case of the immersion blender can be made in plastic or steel. Blades are usually made of stainless steel, but there are also plastic caps with metal blades. The jar for immersion, if it comes in the box – made of plastic or strained glass.
This type of blender is good for making purees and smoothies, kneading batters, and can also be used to make milkshakes. This is the most portable model, as you can cook with it in almost any container. But splashes can fly all over the kitchen if you cook without a lid.
Keep in mind that this device must be constantly held in the hand during use. But, in case of long non-stop working of the device, the user should worry not – many brands have provided motor protection against overheating, so the device must withstand all declared speeds.
By the way, the number of speeds at which an immersion blender can operate is an important characteristic of the device. They can be from 2 to 20. The basic rule here is: the more, the better. The choice between different speed ranges gives more options when preparing different dishes with different textures, because for kneading dough, whipping cream on meringue or making cream, it is better to use different intensity.
Also, some models support Turbo mode to increase speed on demand. This mode is important to get the most smooth consistency.
Jug Blenders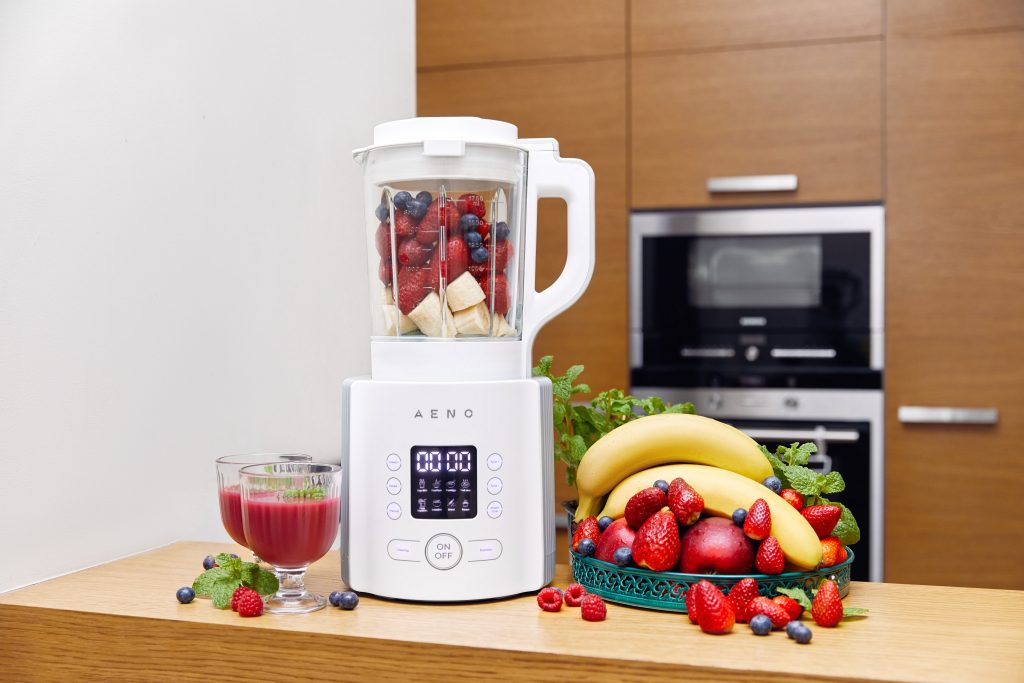 The jug blender, as known as stand and countertop blender, is a jar on the motor base with a control panel. This type of device is suitable for making smoothies, shakes, pancake batter, baby food, and cream or puree soups. With enough power, it can also crush ice.
The container of this blender always has a cap, and this solves a splash problem.
A device of this type is installed on a horizontal surface of a kittchen table. User does not need to hold anything in the hands and constantly control it. It is enough to load the products into the jar, close the cap and push the button "Start" on the device. You can relax while the blender is running and make something else.
Some modern models have pre-programmed settings with fixed timing and speed, depending on the products for cooking: puree, smoothie or dough. For example, AENO brand offers models with a different number of automatic pre-program modes for each type of product and texture of ingredients: milk, soup, smoothies, vegetables, etc. In addition, AENO blenders allow you not only to grind, but also to cook various dishes, as in an ordinary saucepan – in the cooking mode. You just need to load the products into the jar, select the program, push the "Start" button and wait until everything is ready. The control panel is placed on the touch screen, which is intuitive – the digital display shows all the necessary information: temperature, cooking time and the selected mode. Another convenient option that the AENO brand offers is the delayed start timer: to use it, fill the jar, choose the program and set the time for which you want to delay the start of work.
The minimum power for the normal working of a stand blender is from 600 W. But, for example, only more powerful models can be proud of the ability to break ice – from 750 W. In this case, an indication of this option from the brand is necessary. Additional design features of the devices can be provided for such purposes. So, AENO blenders with a power of 800 W also have special teeth that serve to crush ice. This allows you to load frozen berries into the jar, for example, which significantly saves time on cooking.
If a jug blender has enough power, high-quality knives with a high rotation speed, then this device will also cope with the task of chopping meat. Models from the AENO brand range with 8 stainless steel knives and a rotation speed of up to 28,000 rpm are definitely up to it.
An important, although not the most obvious, feature of stand blenders is safety. This can be important if you have children. The blender knives are located inside, at the very bottom of the jar, and it is extremely difficult to accidentally get to them during operation.
In case of overheating of the motor, brands have provided a protective option to automatically turn off the device. In addition, for example, the AENO brand blender will also turn itself off if it is removed from the base and when the cover is opened.
The material of the jar also matters – it can be plastic or glass. Of course, glass jars are more eco friendly, more durable and safer than plastic ones. Heat-resistant glass does not emit harmful substances during cooking.
The shape of the jar in the form of a jug makes it convenient to pour ready-made mixtures from the blender into dishes for serving. A lesser known subtlety is that a key selection criteria for a stationary blender is exactly the volume of the jar, which may differ for different models. The larger it is, the more comfortable you can feel. On average, it is 1.2 – 1.4 liters. In models of stand branders of the AENO brand, the volume of the glass bowl is 1.75 liters, which allows you to cook immediately even for a large family.
Additionally, a number of brands provide a separate self-cleaning mode in their models. After using the blender, you need to pour water into the bowl, add some cleaning solution, select the self-cleaning mode and start it. AENO blenders also have this feature implemented.
Combined models
Combined models have every chance to replace a powerful food processor in terms of functionality. A key feature of such devices is the combination of an immersion and jug blender functions. The set includes an immersion blender with a set of knives and blades, one more container, as well as additional accessories: a whisk for beating, a dough hook and others. Also, the package may include a "shaker" – a glass on a working base with motor, as in stand blender.
There are also specific types of blenders: juice blenders, steamer blenders and soup blenders. These devices differ in that, in addition to grinding, they are able to immediately prepare specific meals.
Personal blender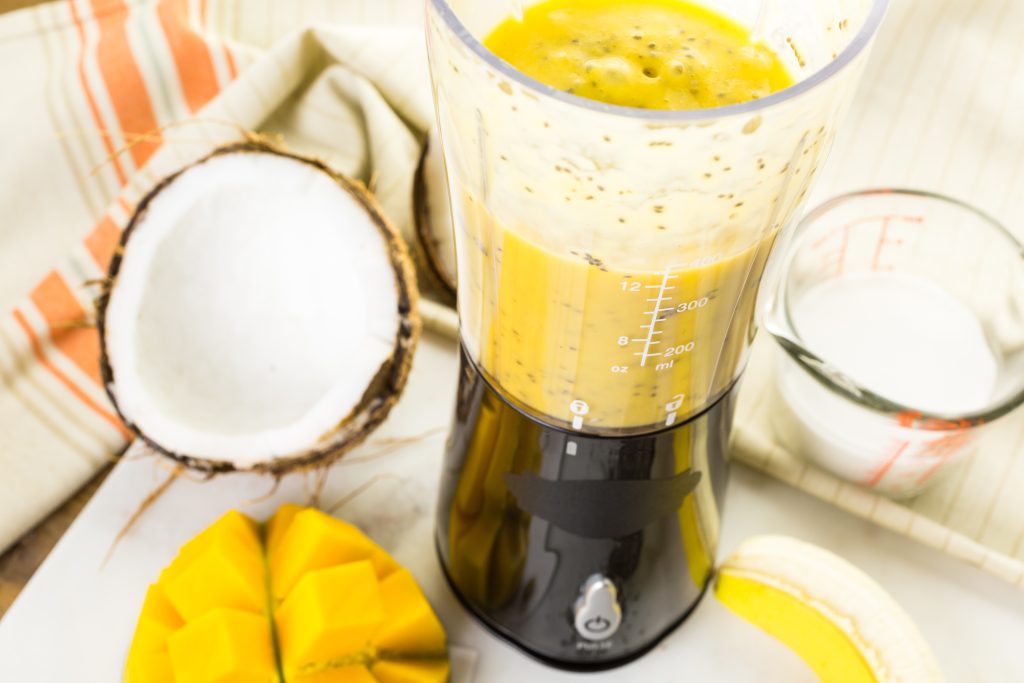 The personal blender is a compact one. It can be an immersion blender with a cup, something similar to a shaker or a mini stand blender. This device prepares 1-2 servings at a time. The cup usually has a cover that is easy to transport. It is convenient for sports nutrition and for business trips.
What type of blender to choose
So how do you make a good choice among a variety of blenders on the market? It is important to pay attention to your needs and requests: what do you plan to cook? Do you need additional features and automatic modes? The type of blender should be selected based on the functionality required from the device.
If the device is selected only as a more advanced replacement for the mixer, then an immersion blender will do. It's an entirely different story if you plan to often make minced meat – you need a blender with a separate bowl and the ability to choose different knives to install inside that will do the job well. At the same time, be sure to consider that the cost of the device depends on its power and the number of switchable blades. As mentioned above, more power is useful for processing meat or hard vegetables, nuts. Determine the types of blades you need according to the type of dishes: for Korean carrots you need a grater, for preparing ingredients for salads – dicing.
The best option for making smoothies and yogurts, cereals and soups is a jug blender. If we consider powerful models with a high speed of rotation of the knives, then they will also cope with chopping meat into minced meat. And if you are trying to live a healthy lifestyle and maintain proper nutrition, and high activity means a lot to you in order to be successful at work and at home, the best option is a jug blender with additional options. This allows you to quickly prepare porridge or soup: one device will grind the ingredients and cook them. You simply load the product, select the mode and continue to go about your business without being distracted by the routine for a long time. It is the best option for making smoothies, yogurts, cereals and soups. And if a full cycle is important to you, then it is better to pay attention to models with cooking mode options, like AENO. You can learn more about the capabilities of AENO brand blenders at the link: https://aeno.com/category/kitchen#Blenders