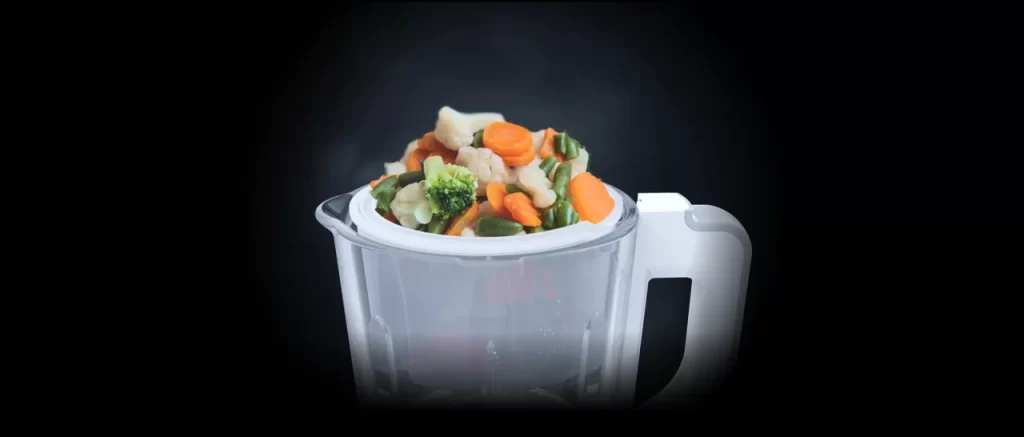 Delicious, hearty and warming soup is the best lunch dish on cold winter days. You can focus on the ingredients you already have in your fridge. In a variety of recipes, you can choose a soup to your taste and to your set of products.
Do you have a dynamic lifestyle and don't have enough time to cook? Fortunately, in this case, modern high-tech kitchen devices will help us out!
A soup maker is a kitchen universal device (all-in-one) that combines various functions for preparing soups of different consistencies for every taste. What does it look like and how does a soup maker work? The design usually includes a heating element, bowl and can be fitted with special blades to chop ingredients and cook up a serving of soup in about 15 to 30 minutes. With this kitchen assistant, making any soup just the way you like is easy!
Easy way to a delicious lunch
Modern technology in these soup makers allows for a quick and easy cooking process. Just follow a simple checklist:
– Prepare the necessary ingredients for the recipe.
– Add the ingredients to the bowl.
– Add water to the container.
– Adjust time and temperature if needed.
– Select a preset program.
– Press start.
Now you can do whatever you want while the device does all the work of preparing dinner for you. After completing the program of the device, simply pour the soup into bowls and serve. Enjoy!
More than just soup
There are different types of soup makers – most often these are soup makers combined with a blender with various options and automatic pre-installed programs. As a rule, the most modern models have a range of possibilities much wider than just cooking soup.
For example, the AENO brand has a line of blenders & soup makers represented by several models with a different number of programs. A maximum of 8 preset cooking programs are available, including "Sоy milk", "Rice pаsta", "Pоrridge", "Thick sоup", "Fruits / Vegetables", "Smоothie", "Grind", "Steam". That is, a user can cook with such a multifunctional device not only soup, but also a full-fledged menu for the whole day for the entire family.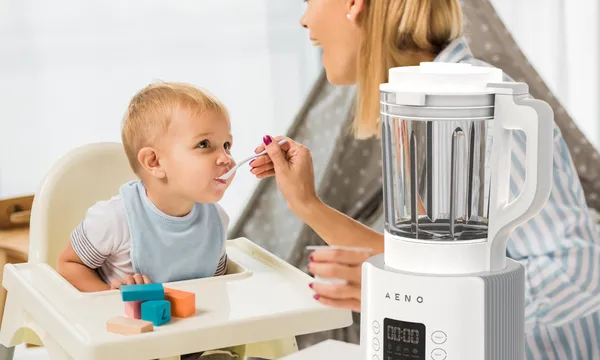 Soup makers benefits
If you still doubt whether you need a soup maker, then find the main benefits of this universal assistant in the kitchen.
1. Multifunctionality
Typically, such devices are also useful for making smoothies, sauces and creams. This means you don't have to invest in any other appliances to make these dishes, so you'll have a less cluttered countertop.
2. Fast food
Save you time with soup maker. Fast food can be healthy if it is cooked in a soup maker. Delicious and healthy food will be ready quickly. You can do whatever you want while your high-tech chef is cooking. You will only have to wait 15-30 minutes.
3. Ease of use
The more modern the device, the more simple and comfortable cooking becomes. The soup cooker will grind the ingredients and cook them to the desired density at the selected temperature or using a preset program.
4. Healthy eating
In a dynamic lifestyle, it is not easy to find time to eat right. The soup maker allows you to quickly and easily prepare healthy meals from smoothie to puree.
5. Save money
A universal soup maker replaces several devices at once in terms of functionality, which means it saves money on the purchase of many kitchen appliances.
How to choose
There are several characteristics that you should pay attention to when choosing a soup maker.
1. Cooking options
It depends on your aims: do you plan to cook only soups or choose a more versatile kitchen appliance? If it is supposed to cook only soups, and rarely, then the simplest model is enough. If you want to be able to cook a variety of dishes, it is better to look at more advanced models.
2. Capacity
It depends on whether you are cooking for one person or several. It is usually recommended to choose soup makers with a capacity of at least 1.5 liters. For example, the AEHO brand offers blenders & soup makers with a capacity of 1.7-1.75 liters. This volume is enough to cook several servings for the entire family.
3. Materials
The device must be made of high-quality and natural materials because it will come into close contact with food. Most often these are bowls made of tempered glass, as in AENO models, but plastic or metal cases can also be found. Typically, glass is considered the safest material for a food preparation device.
4. Safety
The soup maker is involved in the preparation of hot food and therefore it is important to think about safety. AENO models have an auto power-off feature. The device turns off automatically after the end of the program, when the top cover is opened, the device is removed from the base or the motor overheats.
5. Control
Models are available with buttons, electronic and smart remote control via smartphone app. Devices with electronic and smart control have more functions. Depending on the model, the soup maker may have a display showing basic information.
For example, in AEHO brand mоdels, the backlit LED display indicates operating status. Convenient touch control in a few clicks will launch the selected mode. It also provides remote control through the app on users' smartphones.
Perfect solution for fast & healthy food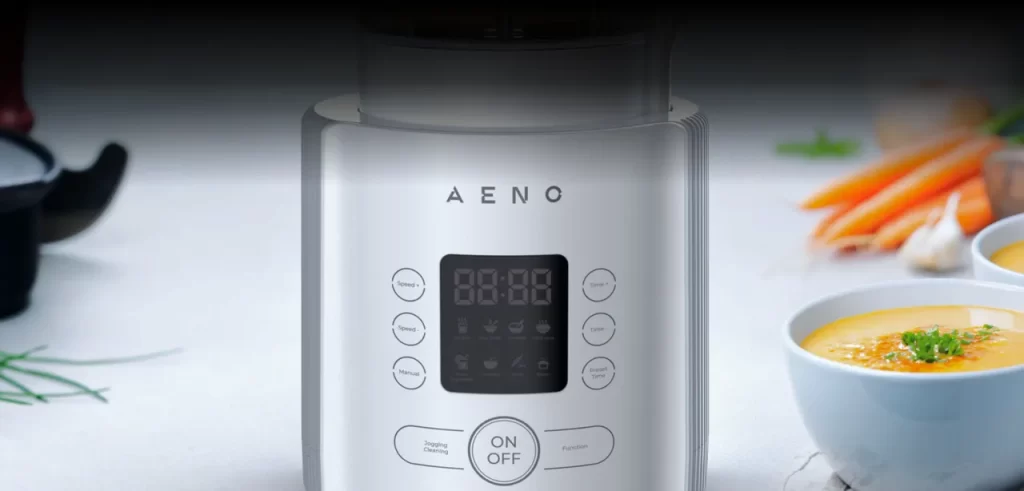 What is a soup maker in a modern technologically equipped kitchen? Such devices with blender and soup maker options allows users to easily prepare excellent first courses, spending a minimum of time. The device is very easy to use, and the built-in functions are useful for everyday meals. This unit is good for healthy eaters. If you need a universal assistant for the cooking, pay attention to blenders & soup makers by AENO brand. To learn more about the product line of devices for the kitchen, you can follow the link: https://aeno.com/category/kitchen/