A dirty carpet spoils the looks of a room and is bad for health. Doctors – allergists recommend regular cleaning of carpets at home and in offices. Dust mites and other allergens, invisible to humans, often hide inside the pile. Clean and wash carpets regularly and timely, so that they look better and are safer. So, how often should a carpet be cleaned?
How do you decide between wet and dry cleaning for your carpet? How often should you wash your carpet to make it last longer? As a rule, the frequency of carpet cleaning depends on several factors.
Location
The location is very important in determining the potential rate and level of soiling of the carpet, and therefore the frequency of its cleaning.
Carpet in your home or office?
A carpet in a house or office has different uses and traffic on it. That largely defines the frequency of cleaning. For example, a light-colored carpet in a store or office, on which people walk non-stop, leaving footprints and dirt, needs to be cleaned more often. Carpet in a home or areas that are rarely walked on can be cleaned less frequently.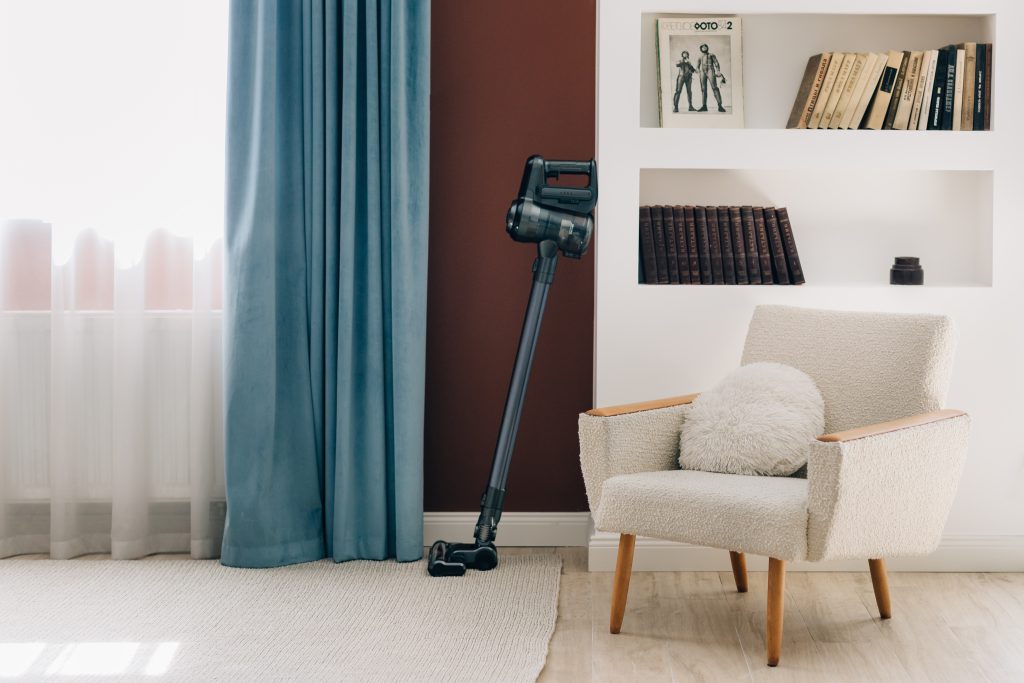 Office
Perfect cleanliness in an office creates a positive impression for visitors. Taking care of your employees and clients requires comfortable working conditions in a stylish and tidy room. In addition, regular carpet cleaning definitely prolongs its life. How often should you clean office carpet? The frequency of cleaning depends on many factors.
First of all, you need to analyze your carpet usage. If you have a small office, where most of the staff walks in changeable shoes, and visitors rarely come by, then it is enough to vacuum a couple of times a week. If you have steady traffic in the office, with many visitors, contractors, clients, then cleaning will be required every day.
In any case, try to wash a carpet at least once every 2-3 months (in addition to regular vacuuming, of course).
Home
Carpets in your home need to be cleaned regularly. This is clear, but how often should you wash your carpets at home? In an apartment, it is usually enough to do this once a week. But if you have children or pets, then you need to do it more often. Children and pets love to play on carpets. Therefore, regular carpet cleaning is an investment in the health of all family members.
Carpet characteristics
The characteristics of a carpet affect how dirty it is and whether it needs to be washed. To determine the cleaning time, it is necessary to take into account the pile and color of the carpet.
The color of the carpet is the most obvious indicator for determining the need for cleaning. Nude is very popular in interiors because this color makes the room visually lighter and more spacious. A light-colored carpet will immediately highlight the slightest spot or pollution. You will clean a light-colored carpet much more often. Carpets of dark colors mask the dirt between the fibers. So why clean the carpet if it doesn't look dirty? This is a dangerous delusion. The pile collects a lot of bacteria and microbes, dust and dirt particles. Therefore, even if your carpet looks great, you need to wash it at least once every six months.
What is the pile on the carpet?
Carpets with low piles will need to be cleaned more often, but cleaning will be easy. A robotic vacuum cleaner can handle the cleaning of such a type of coating. After all, less pollution is stuffed and accumulated inside than among a high dense pile. High piles can look clean but require a deep wash. Such fibers collect a lot of dust and dirt inside.
What material is the carpet?
Viscose, linen or silk carpets are not home washable, but can be steam mopped at home or professionally laundered.
Conditions of use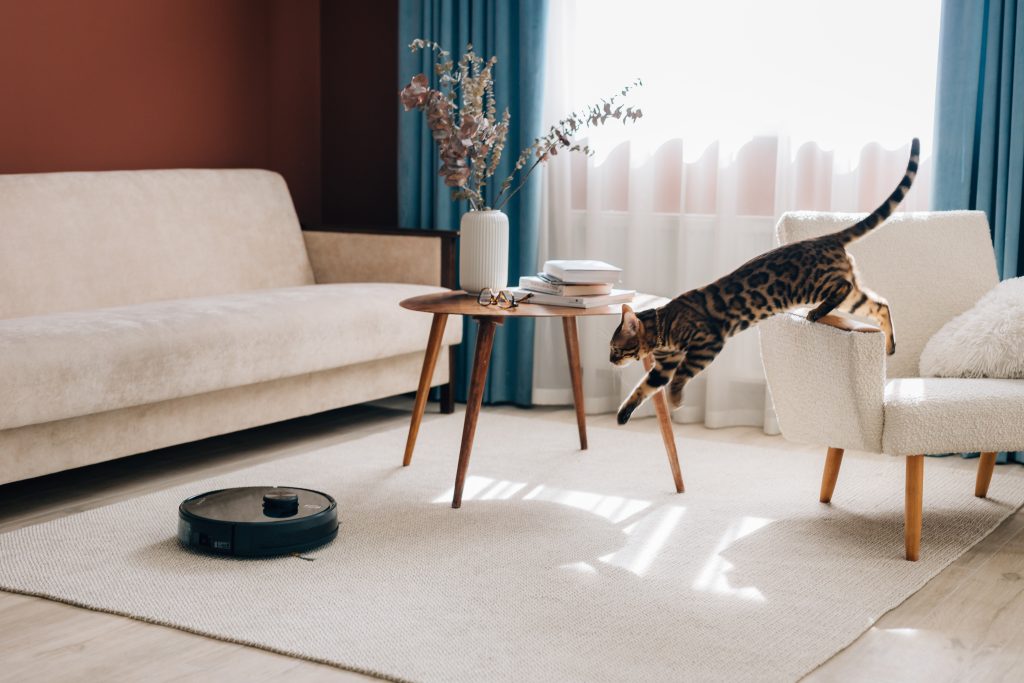 Maintaining the cleanliness of the carpet depends on the conditions of its use: intensity, foot traffic on it, children and pets playing on it.
What is the foot traffic for the carpet?
The more traffic steps on the carpet, the dirtier it becomes. Accordingly, the more often it needs to be washed. For example, a carpet in a child's bedroom should be cleaned once a week with a vacuum cleaner, once a month with a steam mop, and deep washed every 3-6 months. A carpet in your bedroom can be vacuum cleaned every 2-3 weeks. A few times a year use a steam mop for deep cleaning. To maintain daily cleanliness for low pile carpets, you can use a robotic vacuum cleaner a couple of times a week. The carpet in the guest room where no one lives regularly can be cleaned every six months.
Are there children and pets?
In a house where there are pets, carpets need to be cleaned much more often. Pets molt and shed hair, saliva, or even particles of feces and urine left on their fur and skin. If your animal goes for a walk, then there may also be traces of dirty paws, dirt and dust brought after walking on the carpet. So carpet cleaning may be required at least once a week.
If there are children and pets in the house, then the carpets need daily and weekly regular cleaning, and a deep wash once every 2-3 months. Children often prefer to play on the floor. At the same time, carpets have the ability to accumulate bacterium and harmful substances between the piles. Regular cleaning is a prerequisite for caring for the health of children.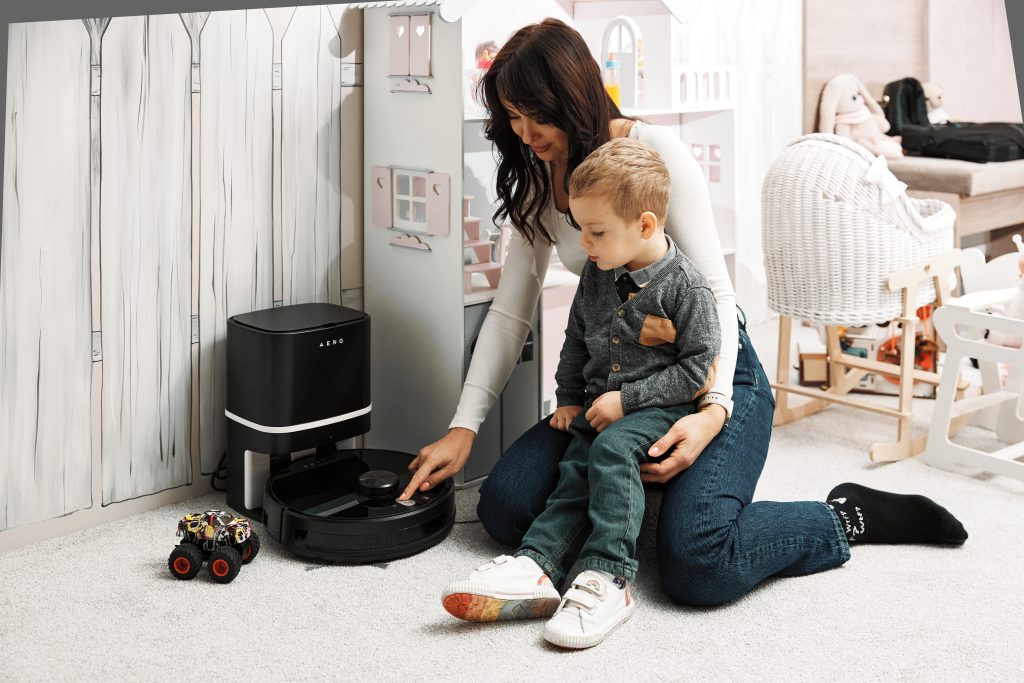 Is there a family member with allergies in the house?
If a person prone to allergic reactions lives in the house, then carpet cleaning should be regular, about once a month. After all, the fibers and pile of the carpet collect dust and allergens, which can aggravate the condition of allergy sufferers.
Has anyone had a virus or infection recently?
It is recommended to deep wash the carpet after someone in the family has been ill with a viral respiratory infection. This is important to get rid of viruses and bacteria, allergens that have accumulated between the pile of the carpet. A steam mop works great for this. The device treats surfaces with hot steam to eliminate harmful bacteria, dust mites and allergens. Such a model is present, for example, in the product portfolio of the AENO brand.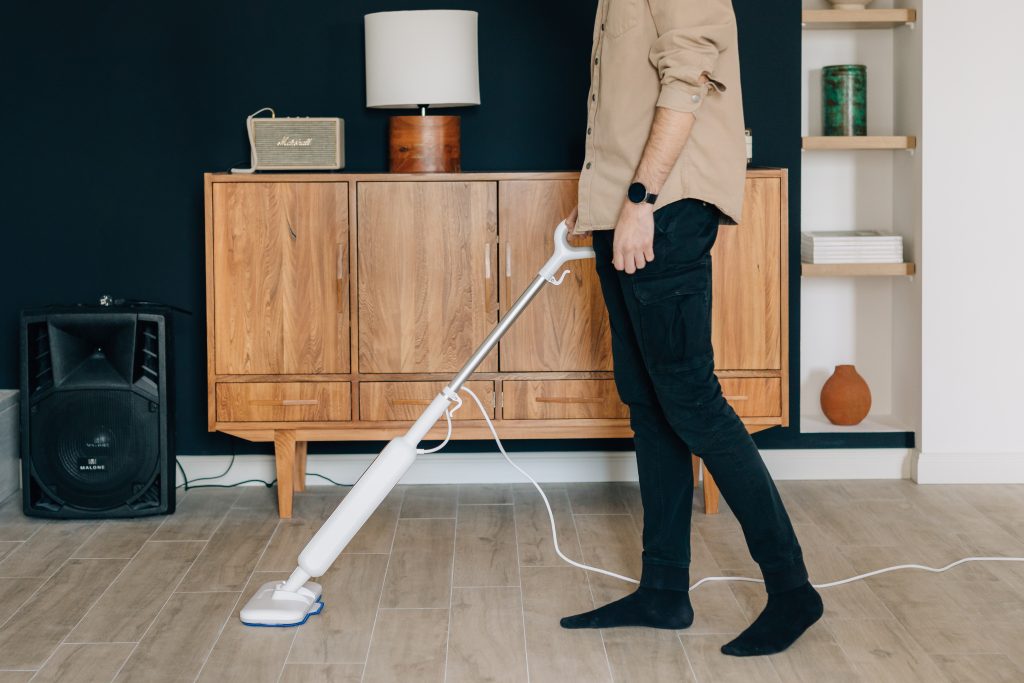 Do you have smokers in the house?
If someone smokes regularly in a carpeted room, then it is necessary to carry out a deep cleaning of a carpet every 3-6 months. The harmful particles of tobacco smoke remain inside the carpet fibers and can be re-emitted into the air in the room by the pressure on the carpet pile from walking. This pollutes the air and is harmful to health if such air is frequently inhaled. Planned deep washing of carpets removes these toxic substances and smells.
Do you wear shoes inside at home?
If you come home from outside and do not change your shoes to wear at home, then your carpet needs to be cleaned frequently. On outside shoes you can bring dirt, dust and allergens.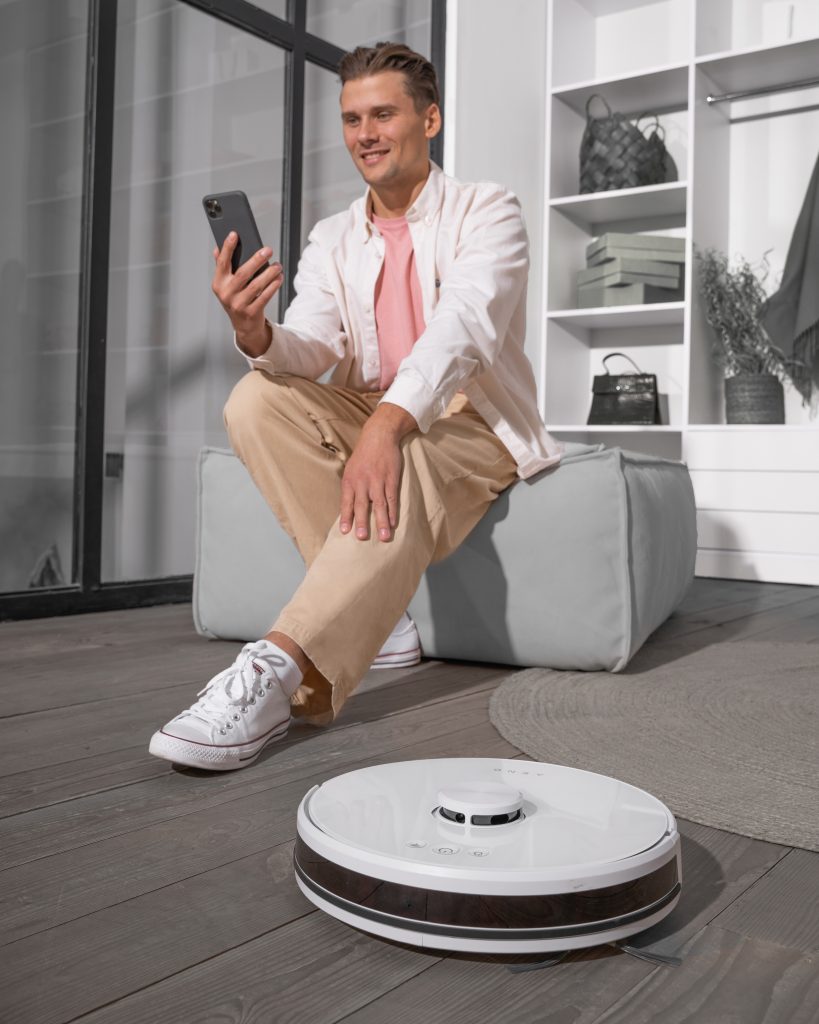 Wet vs Dry cleaning
Small carpets are usually intended for a bathroom: those can be washed without much concern for their appearance. It is recommended to do this once a week.
Dry cleaning is the safest type of carpet care for its fibers, protecting lifespan. However, deep cleaning should also be used to disinfect the coating.
It is important to remember that the higher the pile and density, the more water is retained inside the carpet fibers. This is dangerous due to mold and mildew. Therefore, wet cleaning is not the best idea for home. But if you plan to conduct deep cleaning and wash the carpet, then you need to make sure that it is well dried after cleaning.
How often should I wash my carpet? At home, it is recommended to thoroughly vacuum and steam large carpets. Choose a wash only for small carpets in front of the entrance or in the bathroom or for lint-free fabric carpets once a week. Carpets in a living room can be wet-cleaned once every 6-12 months.
At home, deep cleaning of carpet fibers and disinfection from bacteria and dust mites is more convenient with a steam mop. The surface and pile are disinfected with high temperature steam. In addition, this is a more delicate type of cleaning than brushing with household chemicals.
Save time and energy
by using cleaning gadgets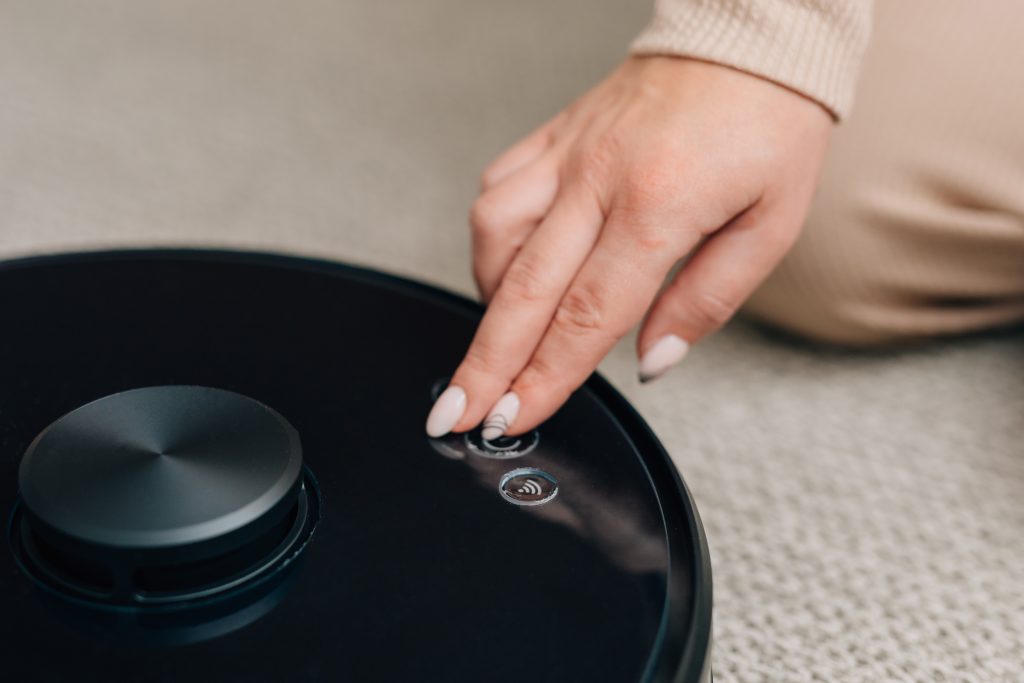 Carpet cleaning will be much faster, easier and more efficient if you use modern high-tech cleaning gadgets: robot vacuum cleaners, cordless vacuum cleaners and steam mops. This will allow you to avoid a time-consuming process, saving a lot of time and nerves. In addition, you can be sure of a positive result.
To keep a carpet clean, you can use a robotic vacuum cleaner daily or 2-3 times a week. Do not forget that this method will be effective for low pile carpets. You will significantly extend the time until deep washing the carpet.
If you do not use a robotic vacuum cleaner, you should vacuum at least once a week. To do this, you can use a cordless or a regular vacuum cleaner.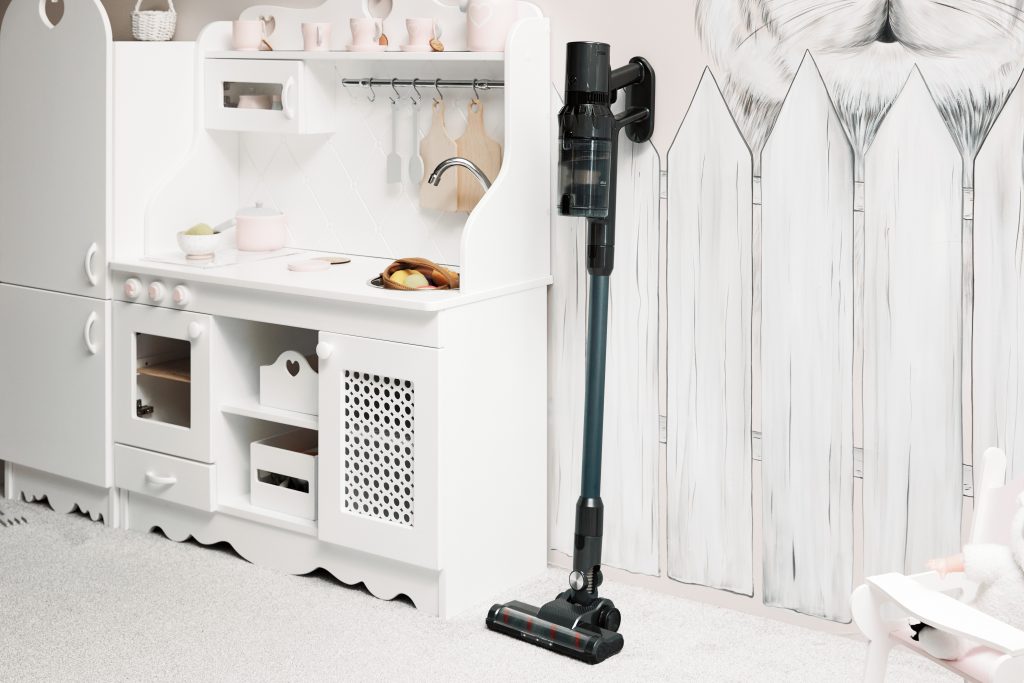 But how often should I deep clean my carpet? Once a month (if you have children and pets) or every few months in other cases, it is recommended to deep clean the carpet. To do this, you can use a steam mop, for example brand AENO, or entrust it to a professional cleaning service. This is necessary to maintain a healthy microclimate in order to remove harmful bacteria, allergens and dust mites from the pile. This cleaning is recommended to be done at least once every 6 months.
Choosing high-tech cleaning gadgets is an economical and effective solution for maintaining clean carpets in your home or office. Learn more about AENO devices in the section "Cleaning gadgets".