How much time are we ready to dedicate to cleaning? If you are not a fan of cleaning and prefer to allocate time to work or family, rather than household appliances, then a robot vacuum cleaner is your ideal assistant for home. But can a robot vacuum cleaner completely replace a regular vacuum model? What is better in functionality and quality of cleaning: a robot vacuum cleaner or a regular vacuum?
Easy to use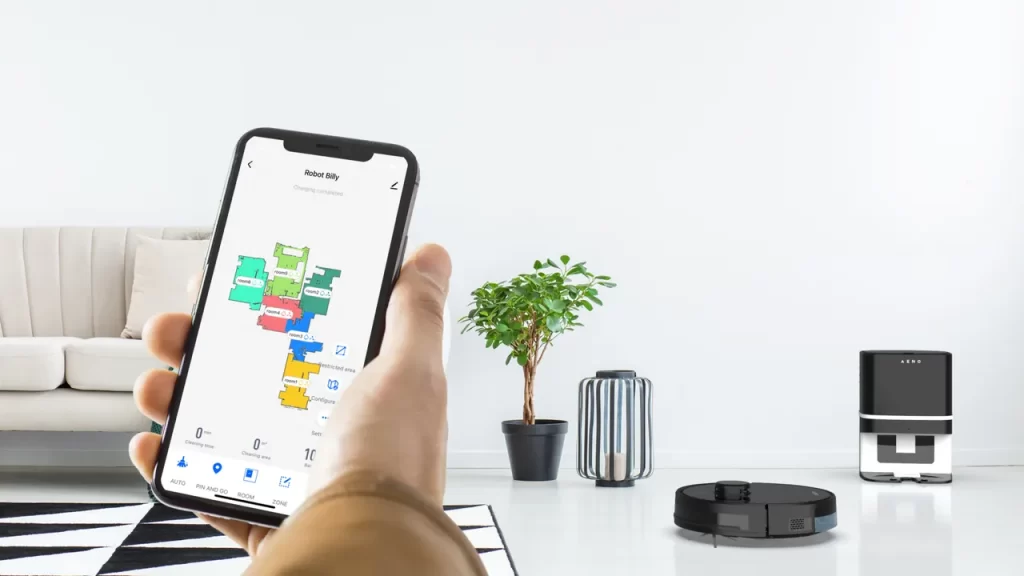 Smart cleaning with a schedule is the key feature of a robot vacuum cleaner. Users can set a cleaning schedule and at the required time the robot will start enroute to getting dust, pet dander and small trash.
Robot vacuum cleaners are perfect for cleaning hard-to-reach places, thanks to compact size and are flat enough to fit freely and easily under a sofa or a bed..
Robotic vacuum cleaners are smart devices, which can define a plan for cleaning the area and find their way to the charging base on their own. After recharging the robot will continue cleaning.
Of course, it is impossible to guarantee that your robot vacuum cleaner will never get lost in the flat, but in general, manufacturers create devices with the opportunity to plan routes and move to the assigned areas, while avoiding obstacles. This does not mean that you need to scatter socks and such all over the place. While with a regular vacuum cleaner there is a risk that a small item can find its way inside then the robot, having stumbled upon such an obstacle, will either turn the other way or turn off. In such a case, everything depends on the sensitivity of the sensors.
For example, the AENO brand uses remote sensing technology "lidar" for its robot vacuum cleaners. With the help of a laser reader, it collects data about the floor, which are used for 3D models and maps of objects for cleaning. Smart mapping captures the memory of all objects and makes cleaning more efficient by successfully bypassing the obstacles
Floor level changes and thresholds should also not become a serious hindrance to the operation of a robot vacuum cleaner, should the user, while choosing a model, pay attention to the max height required to overcome the device – brands usually inform about this spec.
The setup and use of a robot vacuum cleaner is also quite intuitive. Every manufacturer aims to offer native mobile app for smart control. The app can be used to build a cleaning schedule, starting the process every day at a certain time, or starting the robot vacuum cleaner remotely if you suddenly decide to invite guests home and need to urgently refresh the cleaning.
Operating a robot vacuum is much more convenient than getting a regular cleaner out of the storage, unwinding the cord, towing it around the house and searching for an available outlet as the actual cleaning area is limited by the cord length.. A more mobile option is a cordless vacuum cleaner, but it also requires time and effort for the manual cleaning.
By the way, the robot vacuum cleaner is also easy to maintain. The smart device usually detects when the dust container is full and reminds you to replace it. With a regular vacuum cleaner, such a trick will not work – you will have to monitor its state.
Cleaning quality
The robot vacuum cleaner effectively picks up dry debris, dust and pet hair from the floor. The quality of cleaning depends on the surface to be cleaned. The robot vacuum cleaner works best on a plane surface. Most often, it will not be difficult to clean from fresh, "not trampled down" debris, even carpet with a short pile. If you have a carpet with a high pile, then this will be a serious test for the device, it is better not to rely on the robot to clean such coatings. It is better to entrust this task to a regular vacuum cleaner or a cordless vacuum cleaner, or even use a steam mop, which can not only clean, but also disinfect carpet fibers to destroy harmful germs.
Robot vacuum cleaners are not limited to dry cleaning, they can also do wet cleaning. In order to do this, it is necessary to fill the tank with water and install it into the device. If you plan to create a schedule for such cleaning, then the container will need to be filled in advance so that the robot vacuum cleaner starts on schedule. Also, after the process is completed, you will need to wash or change the microfiber cloth that wiped the floor. The key take-away is that the robot vacuum cleaner will do wet cleaning and not be confused with washing the floors. Modern devices provide several modes of water supply, which can be selected depending on the coating and the level of surface dirtiness. This allows you to focus primarily on your needs and make cleaning more efficient. Such an electronic control of the water supply with a choice of three modes (low, medium, high), which ensures the selection of the optimal cleaning scenario depending on the type of flooring and the level of pollution, is available, for example, in models of the AENO brand.
The only thing that, perhaps, a robot vacuum cleaner will not help with is cleaning furniture. When cleaning sofas, carpets and curtains, you will need a conventional or upright cordless vacuum cleaner, and possibly a steam mop.
The quality of cleaning depends on the current level of dirtiness. If general cleaning is required, then a washing or vertical cordless vacuum cleaner will be useful, as an option – a steam mop. Such large-scale cleaning is usually done infrequently, literally several times a year. If constant cleanliness is important, then a robot vacuum cleaner is an excellent solution for every day. With its introduction the house will definitely become cleaner.
Noise level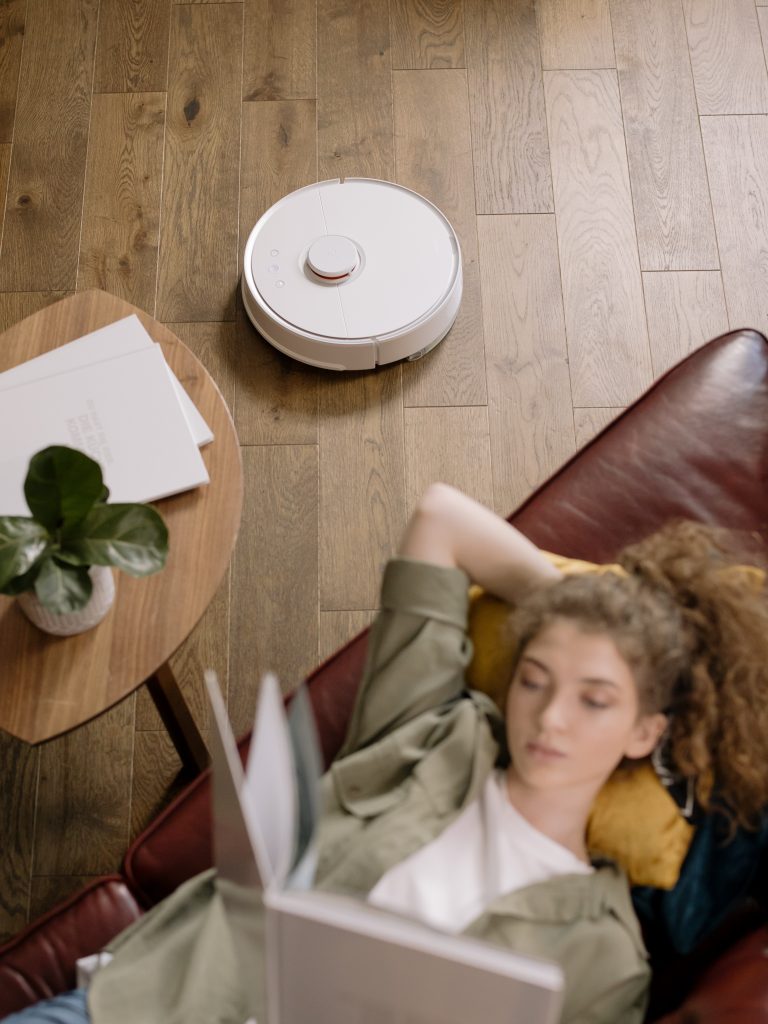 This option may be especially important for parents with children. The robot vacuum cleaner does its job, if not in absolute silence, then without unnecessary noise, even if the model has a high power level. For example, the average noise level of a regular vacuum cleaner is 80 dB, which is comparable to the sound of a motorcycle engine running with a muffler. At the same time, even for the most powerful robots, this figure is usually no higher than 55-65 dB, that is, no louder than a conversation at a distance of about one meter.
Storage
The usual problem with regular vacuum cleaners is their large size, it is necessary to find dedicated storage for them. . If the layout of your flat provides for a pantry, then this is not a problem. But in a studio apartment, for example, it will be much more difficult to place such a household appliance. In this regard, a compact robot vacuum cleaner is much more convenient, because it does not require much space.
What to choose: regular vacuum cleaner or robot vacuum cleaner
The robot vacuum cleaner is a great assistant for cleaning: it saves time and energy, keeps the house ever-clean and significantly reduces the frequency of general cleaning.
The option of remote control, operation according to a convenient and pre-planned schedule without your participation – these are the main advantages of robotic household appliances. Smart devices are easy to maintain and configure without wasting your time and effort.
A robot vacuum cleaner can be the only assistant for cleaning a house, or it can coexist with other equipment. It all depends on individual needs and requests. If cleanliness of the house every day is important to you, then purchasing a robot vacuum cleaner will be a logical decision.
A regular vacuum cleaner with a manual cleaning mode or a more mobile model of a cordless vacuum cleaner is best for heavy general cleaning, while a robot vacuum cleaner us optimal for light everyday cleaning without extra effort.
In the range of the AENO smart technology brand, you will find models of upright cordless vacuum cleaners and steam mops for general cleaning, as well as smart robot vacuum cleaners for regular maintenance of cleanliness in the house. You can learn more about cleaning appliance and get acquainted with the detailed characteristics at the link: https://aeno.com/category/home-and-clothing-care